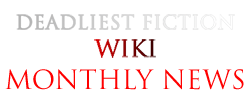 For the Month of September in the Year of 2011
News
News
1

Battle Advertisements

2

World News

3

Popculture News

4

Birthday

5

Battle of the Season
Class 3-E (Assassination Classroom) vs. Eastern Private Defense Academy (Busou Chuugakusei): High schoolers, they don't …
See more >
The Policies
I just want to reinforce the importance of reading the policies. Not only will they keep you out of trouble, they may answer any questions that you may have. Take the time to review the policies, it will keep you out of the administrator's watch list!
The Infobox
It is mandatory, I repeat mandatory that all users use the new infobox for all articles relating to warriors. This does not apply to user warriors or weapons pages. It is very easy to use and much simpler than the standard infobox, plus it looks cleaner and more modern. This message particularly goes out to the newer users who have made articles without the appropriate infobox.
Main Page Slider Pt.2
Yes, I have my Photoshop back up and running, but guess what, school is here and I don't know if I have enough time to push out awesome Battle of the Month pictures and any other pictures requiring my photo editing skills. If I say I will have a picture up on a certain day, don't expect to be because I can't meet that deadline. So I apologize if I cannot get images up for you in the right time. Again, anyone with good Photoshop skills can definitely do me a favor by putting up the image for BoM or anything else.
Battle of the Month
It's that time again: time to nominate which battle will receive the prestigious Battle of the Month award! This time voting will only be done by comments to prevent IP spamming.
THE WINNER IS: Grand Army of the Republic vs. United Nations Space Command Marine Corps by Sith Venator!
In Other News
When you thought the hurricanes were gone for this year, think again. Tropical storm Katia is gaining strength and may form into a massive hurricane.
Muammar Gaddafi, former ruler of Libya, has fled his country and is now no longer in power. Despite being a major victory for the Libyan rebels, the war is not over yet, remnants of Gaddafi's regime are determined to retake Tripoli and re-establish the old government.
The 11th marks the 10th anniversary of the tragic terrorist attack that took place in New York, Virginia, and the the rising up of civilians in Flight 93 who sacrificed their lives to save thousands more.