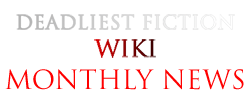 For the Month of October in the Year of 2011
News
News
1

Battle Advertisements

2

World News

3

Popculture News

4

Birthday

5

Battle of the Season
Class 3-E (Assassination Classroom) vs. Eastern Private Defense Academy (Busou Chuugakusei): High schoolers, they don't …
See more >
User Tournaments
Many have noticed the rise in user tournaments, and many have grown weary, and wary. Yes, it's fun to compete against other users in fictional battles, but when there are many at one time something bad can happen. In the last week I have noticed small bursts of flaming and trolling against users and without my intervention it may have transitioned into a possible flame war. I have noticed that user tournaments have also brought on a rise in sock-puppets. In a given four month period, there can only be three user tournaments at a time. Any surplus user tournaments in that time period will be deleted, but they can resume after a given four month period. I hope to garner the support of the admins on this issue. This system will take place after October.
Battle Copyright
Another heated issue is the sharing of certain battles between two or more users. A new battle copyright system will be enforced. An article covering this issue will be posted soon. Please review the article once it is completed. Both the guidelines and consequences will be outlined in the article. Thanks to The Deadliest Warrior for proposing the idea.
NOTE: The new Battle Copyright is now up, please review it carefully and post your questions about it here.
This wiki will be using the new wiki navigation system. Like every new change, it takes time to adapt. Not only does it make things more organized, it brings a new chic design to the wiki. All buttons are now located in one area, making things easier to locate.
Battle of the Month
It's that time again: time to nominate which battle will receive the prestigious Battle of the Month award! This time voting will only be done by comments to prevent IP spamming.
In Other News
Entrepreneur and co-founder of Apple Inc., Steve Jobs, has passed away today, October 5, 2011. He has left behind a legacy that has bettered the world's communications and has been looked upon as a role-model for many.
Amanda Knox has been released on October 4, 2011 after four years of imprisonment for her suspected murder of her roommate, Meredith Kercher.