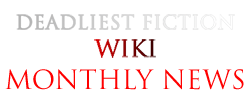 For the Month of May in the Year of 2011
News
News
1

Battle Advertisements

2

World News

3

Popculture News

4

Birthday

5

Battle of the Season
Class 3-E (Assassination Classroom) vs. Eastern Private Defense Academy (Busou Chuugakusei): High schoolers, they don't …
See more >
New Design
Well all users have probably noticed that the overall design has been greatly altered thanks to XD1 who is a member of the Content Team over at Wikia. However, other than that our community message column now includes a random song brought about from MrPacheco101, popular battles and other blogs for easier battle access, and the wiki-poll. In addition, we have a completely redone search bar made by yours truly from the help from the guys over at the Dragon Age Wiki. Also I made a new wiki-wordmark so that it truly matches our color theme of red and black and gray.
This Month's Battle of the Month is:
The battle lines have been drawn, blood has been spilled....well not really. This month's BoM goes to: Swg66's Army vs. Army: East vs. West! Congratulations to Swg66 for a well-written and very ingenious battle.
In Other News
The Royal Wedding takes place tomorrow! Best of wishes to the lovers!
Japan is slowly sliding into a recession due to the disastrous earthquake that caused damage to their industry
Today Harper Lee, author of To Kill a Mockingbird, is celebrating her 85th birthday!
Wiki-founder, Astrotorical celebrates his birthday this month!
It was announced that terrorist leader Usama Bin Laden has been killed by the

US Navy SEALS

. We thank those who risked their lives in pursuit of this man.
The Mexican holiday, Cinco de Mayo, takes place on the fifth! Remember, this holiday does not commemorate Mexico's independence, rather her victory over the conquering French forces.