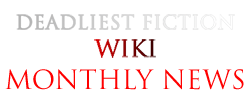 For the Month of June in the Year of 2011
News
News
1

Battle Advertisements

2

World News

3

Popculture News

4

Birthday

5

Battle of the Season
Class 3-E (Assassination Classroom) vs. Eastern Private Defense Academy (Busou Chuugakusei): High schoolers, they don't …
See more >
Infobox
Well we have a new infobox and I created it for one reason, so we have uniform articles. Its strange to see two, sometimes three, different infoboxes on articles. It's better looking and simpler to have one single one. I know its my fault for proposing so many different infoboxes, but this one will definitely be....definite. It is mandatory that this infobox be used. Thank you, many thanks to Samurai234 for starting the change.
This Month's Battle of the Month is:
In Other News
Ratko Mladić, notorious Bosnian Serb, has been extradited to The Hague for genocide and other war crimes.
Late rapper Tupac Shakur's birthday is this month, June 17. R.I.P 2Pac
Omnicube1's birthday is this month, June 2
The Deadliest Warrior's birthday is June 3
The drug lord of the cult-like cartel known as La Familia was recently captured.