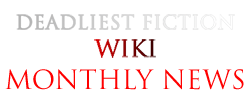 For the Month of June in the Year of 2011
News
News
1

Battle Advertisements

2

World News

3

Popculture News

4

Birthday

5

Battle of the Season
Class 3-E (Assassination Classroom) vs. Eastern Private Defense Academy (Busou Chuugakusei): High schoolers, they don't …
See more >
Happy Birthday Deadliest Fiction Wiki!
Yes, it's almost our very first anniversary of the foundation of this wiki and I'm very proud to say that I have been apart of this since the beginning, and to believe I was initially against the creation of this wiki! We have really grown since July 22, 2010. Of course there were controversies and blocks along the way, but making mistakes is one of the greatest ways to learn. I would like to thank all users who are still with us for making our wiki what it is! Together we're deadly!
Chat
Want to discuss random things with users here on this wiki in real time? Well now you can! Thanks to Wikia, we now have a chat feature that is going strong. It's easy to join or start a chat, but please make sure that you obey the chat policy to ensure that you don't get banned. If you would like to apply to be a chat moderator, send your request here.
Battle of the Month
Again, it is up to you to decide which battle gets Battle of the Month. Remember, your nominations don't have to be limited to more current battles; you can nominate battles that were completed months ago! Again, only four nominations will be accepted.
THE WINNER IS: Dante vs. Ezio is the winner! Congratulations to Wassboss!
In Other News
US President Barack Obama states that he will begin to withdraw 5,000 troops during July from the conflict in Afghanistan and another 5,000 by the end of the year
One of the top Los Zetas Cartel bosses has been arrested in the killing of a US agent
Turkey begins to join the fight in Libya financially by supplying the Libyan rebels nearly $300 million in funds/supplies. In addition, the World Criminal Court has issued a warrant for the arrest of Muammar Gaddafi due to crimes against humanity
Swg66 celebrates his birthday on the 31st of this month!
Ethank14 will be celebrating his birthday soon, on the 6th of this month!
South Sudan has been officially recognized as an independent country after a six year period that began after the Second Sudanese Civil War.