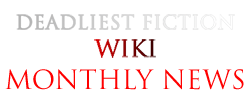 For the Month of December in the Year of 2011
News
News
1

Battle Advertisements

2

World News

3

Popculture News

4

Birthday

5

Battle of the Season
Class 3-E (Assassination Classroom) vs. Eastern Private Defense Academy (Busou Chuugakusei): High schoolers, they don't …
See more >
What Needs to be Changed
Since there isn't much to discuss, I wanted to dedicate this news article to you guys, the users. I want you guys to bring up any complaints you have about the wiki itself and what needs change.
In Other News
The NBA and its owners and players have finally formulated a deal that has ended the lockout. Changes include decreased contract lengths and increase in salary cap.
Al Qaeda is currently claiming that it is holding an American hostage in Pakistan.