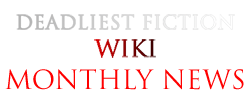 For the Month of August in the Year of 2011
News
News
1

Battle Advertisements

2

World News

3

Popculture News

4

Birthday

5

Battle of the Season
Class 3-E (Assassination Classroom) vs. Eastern Private Defense Academy (Busou Chuugakusei): High schoolers, they don't …
See more >
Around the

Deadliest Warrior Network
As you know this wiki is only one part of the Deadliest Warrior Network. You guys should go around and get acquainted with these wikis if you have not all ready. Great way to meet other users.

(A peice of news from Astro) Wikia has given us a banner under the 'Around the Wikia Network' or something. Thanks to that Deadliest Warrior Network we should get more traffic.
Main Page Slider
Again, I still do not have my Photoshop working so if you guys who have it or any other form of photo editing software, you will do me and all visitors to this wiki some good by adding images and links to the Battle of the Month, news article, and other important pages.
Battle of the Month
It's that time again: time to nominate which battle will receive the prestigious Battle of the Month award! This time voting will only be done by comments to prevent IP spamming.
THE WINNER IS: The Fraternity vs. The Black Label Organization by MrPacheco101!
In Other News
Attacks in Oslo, Norway have shocked the world considering the nation is a relatively peaceful one. Perpetrator Anders Behring Breivik has been detained and has plead guilty for his actions stating that he was aiming to attack Muslims and scare them out of Europe.
In the FIFA Women's World Cup, Japan was able to dominate over the United States in a penalty shoot-out. Congratulations to Japan for being the first Asian team to win a World Cup!
Addendum
Astrotorical will be hosting podcasts on his user page. He will be discussing matters about the wiki so stay tuned and check often!