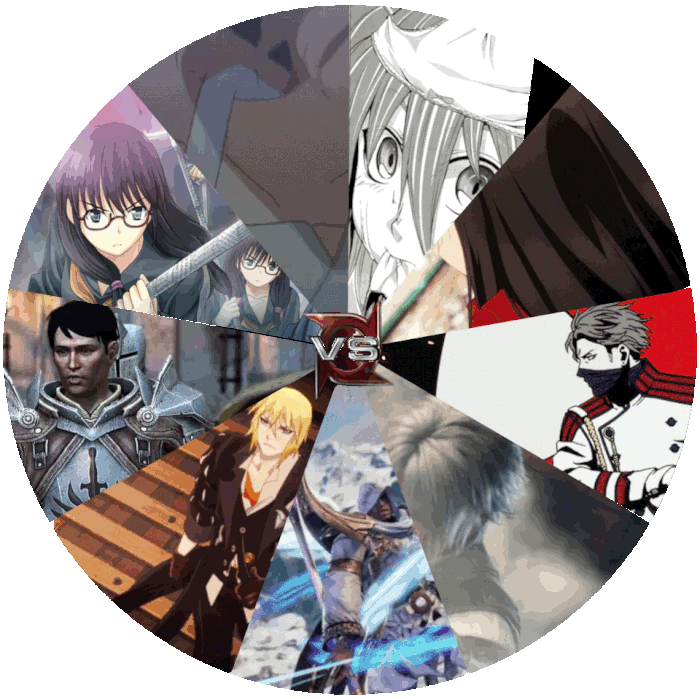 Skippable DFederal Intro
"Okay, Leo, you can't just tell me we're not real and leave me hanging," Carol says, "It feels like it's been months."
"I was simply considering how to make this simple without just revealing everything," Leo says, "Well, to put it one way... has Joker explained Mementos to you?" he asks, and Carol nods, "Good. Well, rather than the collective unconscious, the city is a manifestation of a collective unconscious."
"Let me guess, the Users are the origin?"
"Precisely. So while we are real to us, we are simultaneously not real. And, since I'm one of the six who created this space in the first place, I have a little bit more knowledge."
"I wanted to ask about that, actually. Some of the details behind our founding."
"Ah, right. Well, we may be a collective unconscious, but we are within the collective unconscious. The six of us here needed to negotiate a place with one of the Entities so that we didn't simply get reabsorbed. We got this, in exchange for... a price from each of us."
"I... see..."
"Well, this is a lot to take in. I think we should stop here?"
"Yes, I think so," Carol mutters, "I'll go home for the day."
Gokiburi (Arachnid)
Rin Tohsaka (Fate\Stay Night)
Master (Akudama Drive)
"

This is the end. Die for your sins!

— Master

"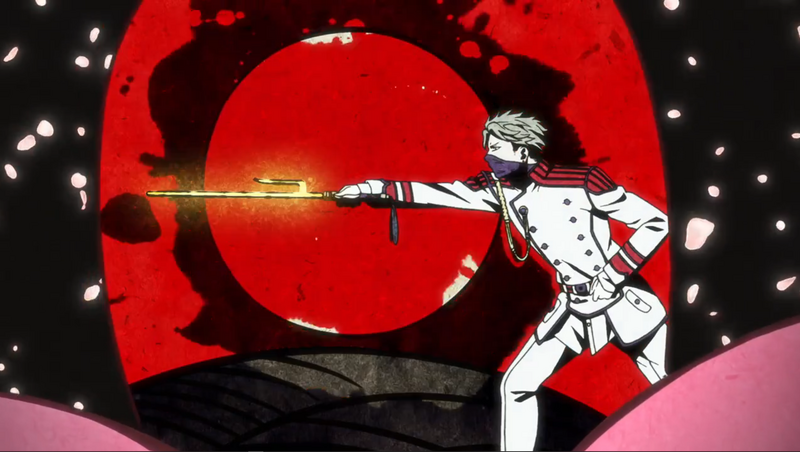 Master is a member of the Executioners, a group of government agents assigned to combat and execute the dangerous criminals known as Akudama. He works in a pair with Pupil, his pupil, and is initially assigned to combat the team of Akudama that Black Cat assembled to assault the Shinkansen. He and Pupil attack the full seven-person Akudama team while they stay at the hotel, severely injuring all of their combat-capable members and only being stymied when Courier used his bike's railgun to destroy the entire room.
He and Pupil then assault the Akudama when they infiltrate the Shinkansen, again fighting them in the narrow confines of the bullet train. The pair once again proves dominant, requiring the full efforts of Brawler, Doctor, Courier, and Cutthroat to hold them off. They are again stymied by Courier, who uses his bike to cut the train apart and strand the Executioners within the Absolute Quarantine Zone, a hellscape of weird physics caused by a WMD.
Beyond all odds, both Master and Pupil survive the Absolute Quarantine Zone. They are both temporarily suspended from duty, as the Akudama team also made it out, and all the other Executioners are commanded to make killing the seven their top priority. Master disobeys orders and sneaks out, leaving Pupil behind, to confront the Akudama team. He fights off the entire team alone, still not fully recovered from his injuries. Brawler distracts him, allowing Courier to take most of the rest of the team to safety. He and Brawler then fight, eventually culminating in a mutual kill.
Pupil finds Master in his dying moments, and he entrusts her Jutte to her along with some final words.
"

You thought you got away from me?

— Master

"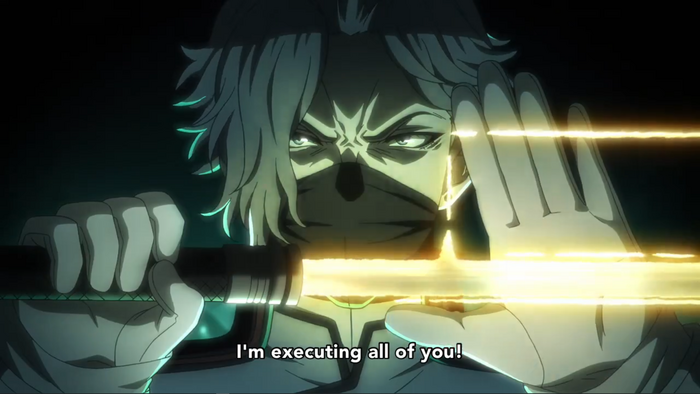 The Executioner's weapon of choice is a special, lightsaber-like jutte. It can slice through organic objects with ease, even able to bisect a human at the waist without much effort. Non-organic objects such as knives, bullets, or Courier's prosthetic arm are not cut, but are instead halted or deflected as if the jutte was metal.
"

Sorry, but I'm going all-out from the start!

— Master

"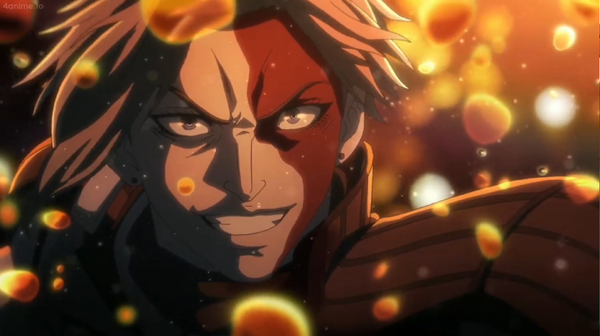 Enjoys Combat

Master really enjoys a good fight. He often states that he's holding back, likely (though not confirmed) so that he can fight for longer. His abilities are usually enough that this isn't a problem, but when faced with the Akudama team it ends up getting him injured.
Affection

Master has a strong attachment to Pupil; his student gives him something to live for, which can give him extra strength in critical moments.
Thancred Waters (Final Fantasy XIV)
Zasalamel (SoulCalibur)
Eizen (Tales of Berseria)
Carver Hawke (Dragon Age II)
Dantalion (Tokyo Babel)
"

Our one and sole eternal duty is to look after the books of the universe. Hence we have a duty to expunge parasites that mean them harm from their vicinity. Like yourself.

— Dantalion

"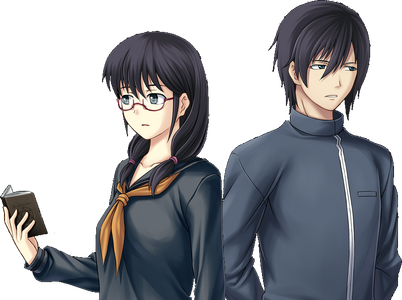 Dantalion is a demon, and one of the dwindling survivors of the Divine Calamity. It takes the form of a hundred separate bodies of varying genders, and it takes its role as a distributor of knowledge by managing the library in Pandora. They does this by cataloguing every single known piece of literature across the countably finite parallel universes in one single miles-long and miles-high library, accessible only by flight.
They are fiercely protective of their library, fighting off any who would seek to force entry. Depending on the route chosen by the player, the Dantalions either perish alongside the rest of Pandora upon the mad angels attacking it, successfully defend the library against Lucifuge and seal it off permanently, or have a small contingent endure the library's safety while the rest assist Sorami with creating a new future. In all routes, they provide an endless stream of snark and play the straight man to the entire cast's comic. Not even they are safe from their own wit.
"

The written word may bring light, illuminating the minds of all who crave its wisdom. The written word may bring darkness, leading astray all who succumb to its temptation. Seeking light, we embrace darkness. Seeking knowledge, we plunge into delusion. We are the inhabitants of parchment, slaves to the written word. We are the kings of parchment, rulers of the written word.

— Dantalion

"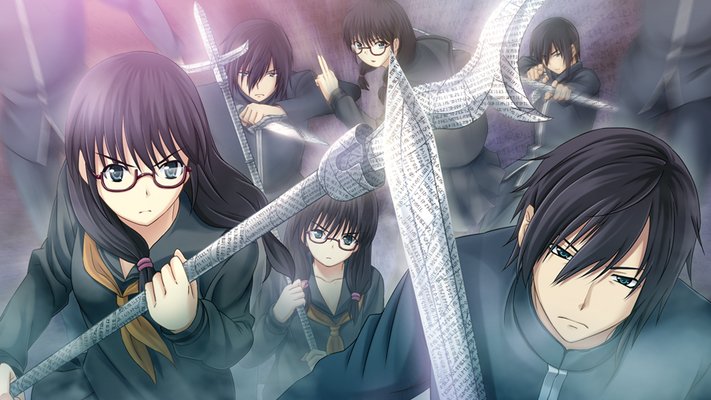 Dantalion's raison d'etre is the thirst for knowledge, and is centered around books and the written word. They can manifest a variety of weapons out of paper, which have the additional ability to clear away any darkness, magically created or otherwise. They require the presence of books to utilize this, and as such are the most dangerous in a library.
The Dantalions are also capable of using magic, most often to fly. They can additionally fling spheres of light, capable of demolishing walls on contact, and appear to be able to manipulate light into other, solid forms.
"

It seems we, as a legion, share not only personality but alcohol intake as well. ... We should be all right, I'm sure alcohol is widely called the "best medicine" for a reason.

— Dantalion

"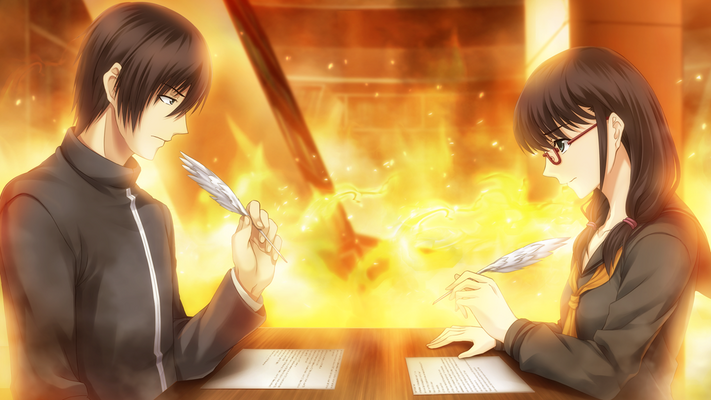 Bibliophile

If given the chance, Dantalion would much rather read than fight.
Shared Consciousness

Every Dantalion shares the experiences and personality (and drunkenness) of each constituent body. Though they still converse amongst themselves for the odd joke.
Mirai Kuriyama (Kyoukai no Kanata)
Scenario
The Tohno Family Con Game is an elaborate game of tag, starting in the living room of a mansion. Master starts out as the Demon, while everyone else is considered a Human. The Humans get five minutes to disperse around the 120 acre mansion grounds and/or the 87,458 square foot mansion it surrounds. The mansion will contain a number of libraries. After those five minutes, Master must proceed to hunt down the Humans, turning them into Demons when tagged. In order for a Human to be tagged, they must have had damage inflicted that would be fatal damage on a normal human being; Demons may be tagged using the same means, though they will not be turned back Human. Anyone tagged, Human or Demon, is sent back to the starting room.
The game lasts for a total of eight hours, and the door to the starting room will re-open every 45 minutes, releasing those within. When a Human is tagged by a Demon, all humans will be notified via an announcement. Any warrior with a limited resource can fully refill that resource in the starting room.
In order for poisoning to count as fatal, it must progress to the point of death. Poisonings by a Human counts as being tagged if the Human turns into a Demon after the poisoning happens.
For Dantalion to be turned from Human to Demon, at least half of its hundred constituent bodies must have been tagged. Any bodies tagged while Dantalion remains human will not be allowed to leave the starting room until the release period after Dantalion is fully turned into a Demon. Bodies of Dantalion still alive at that time will not be returned to the starting room.
Those tagged will be compelled to help Master instead of simply lazing around. Why and how, you ask? I'll let Mami explain: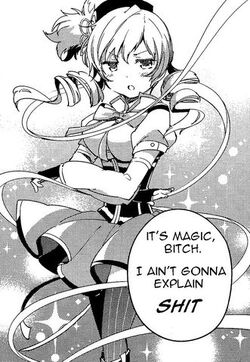 Someone is considered "tagged" if they take what would be fatal damage on a normal human.
A tagged warrior is forcibly teleported to the starting room
If:

A Demon tags a Human, the tagged Human turns into a Demon
A Human tags a Demon, the tagged Demon remains a Demon
A Human tags a Human, the tagged Human remains Human
A Demon tags a Demon, the tagged Demon remains a Demon
Indirect tagging (eg poison, traps) is possible
If a Human sets up a trap, but it triggers after that human becomes a Demon, it counts as if a Demon set the trap
Surviving Humans tie for first
OG Demon places under surviving humans
Tagged Humans place under OG Demon in the order they got tagged in
Should time run out with Rin and Zasalamel still Human:
1) Rin Tohsaka & Zasalamel
3) Master
4-9) everyone else in the order they died (first tagged is 9th, etc.)
---
Should all Humans be turned into Demons:
1) Master
3-9) everyone else in the order they died (first dead is 9th, etc.)
Gokiburi: End of the Arachnid manga, before the events of Blattodea
Rin Tohsaka: After her True Ending in the Fate/Stay Night anime
Master: Just prior to the Shinkansen fight
Thancred Waters: As of Patch 5.55
Zasalamel: SoulCalibur VI
Eizen: Just after the events of Tales of Berseria
Carver Hawke: Just after Act 3 of Dragon Age 2
Dantalion: During the Common Route of Tokyo Babel
Mirai Kuriyama: After the events of the Mirai-hen movie
Floor plans made on floorplanner.com, grounds made on Inkarnate
Voting
Please list each contestant in the placements you think is most likely, following the placement examples above. Ties are allowed.

I will be counting votes by giving each warrior a score based on their placement. Their total score will determine their final rankings.
Please give at least two sentences on why you think the warrior will rank where they do.

Constructing scenarios to favor one warrior will invalidate a vote

Changing or making placements specifically to harm a specific warrior is constructing scenarios
Evaluating the warriors used based on a different canon or different point in their timeline as given is constructing scenarios

Rebuttals can reduce a vote by half.

Counter-arguments can restore the half point

I have the final say on whether or not a vote counts

Contact me via Discord if you think I made a mistake with vote counts

Only votes on this blog will count.
Voting ends on 07/01/2021 at 00:01 Eastern Time
Community content is available under
CC-BY-SA
unless otherwise noted.