'Ello Wikians, here is your news for September 2012.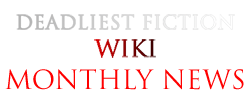 For the Month of September in the Year of 2012
News
Around the

Deadliest Warrior Network
A lot got done on the wiki this month...
A new staff page has been made for Rollbacks.
We re-launched the

Battle Advertisement Hub

.
We have partly revamped the Main Page, and will be working on it throughout September as well.
Main Page Slider
In Other News...
Neil Armstrong, the first man to walk on the moon, died on August 25th. He will forever be remembered in History as an important figure. He made One Small Step for Man, One Giant Leap for Mankind.
Jerry Nelson, better known as The Count von Count from Sesame Street, also died in August.
Battle of the Month
A exciting part of every month is the BATTLE OF THE MONTH! Last Month, 506th Parachute Infantry Regiment vs. 1st Parachute Rifle Regiment by CBA222 won, Who wins this month? Well, that's for you to decide! Nominate 3 of your favorite battles from August and the top 5 picks will be our nominees for voting. Have fun!
HOTD Gang vs. SSS Group by J80Kar is the winner!