'Ello Wikians. Here is your news for June 1st, 2012.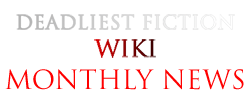 For the Month of June in the Year of 2012
News
Around the

Deadliest Warrior Network
If you have not heard the Deadliest Warrior TV Show has been cancelled. It was an amazing show that brought this wiki to life, and we should think everyone apart of the show's staff for it. Goodbye Deadliest Warrior, may you rest in peace and have your part in TV and Fictional History.
Me and Drayco90 have been selected as the wiki's new admins, and LeoLab and Ess Double-You Sixty Six have been selected as the new B-Crats, replacing Omnicube1 and Astrotorical. Our Sister Site has also gained new admins.
Main Page Slider
The slider has undergone updates. The Warrior category will remain with a different featured Warrior each month. Two battles will also be featured. The Fourth slide will remain a bonus slide.
In Other News...
A "Zombie" has attacked a homeless man in Miami, Florida. Rudy Eugene, The Causeway Cannibal or Miami Zombie, attacked a homeless man (both naked) and consumed 75% of his face. Rudy was shot by police a total of nine times, taking a final headshot to kill him. Rudy was on a special form of "Bad LSD".
Battle of the Month
Here's an old tradition you guys have been begging to get back. Each user can nominate 5 of they're favorite battles posted in the month of May. We will have 5 nominated battles in which the users can vote on they're favorite. Good Luck authors.
Nominated Battles:
News
Previous news |
| Next news