Welcome ladies and gentlemen, to the very first News blog of 2013!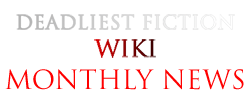 News 
Around the Wiki
We're going to get back on updating the main page throughout the rest of this year, News blogs will go back to normal starting next month!
Battle of the Month
The our first news blog of the year comes the very first Battle of the Month of this year! Who wins this month? Well, that's for you to decide! Users may nominate Two Battle Sims published and finished only in February, we will have five nominees up for voting. 
The Results are in, and the winner is...

LUSTHOG SQUAD VS. SCREAMIN' EAGLES BY DR. LAS MOORE AND EL ALAMEIN!