---
"Cause everyone knows, just who you are-are!" Ava Sharpe drunkenly sings, passing the microphone to an equally inebriated Bobby Drake as the mutant belts out the pop song's chorus. "So live your life! HEY, AY AY!"
For her part, Sara Lance puts her palm to her face, shaking her head in mock shame. "Don't try to act tough, Lance. I saw that smile," Jason Todd taunts, putting on his jacket as he prepares to close. Sara smiles in spite of herself, raising her near-empty glass of whiskey to Jason, who responds by clinking it with his own.
"I'll give you this Jason - you can throw one hell of a bachelorette party." She responds, throwing her own white longcoat on as well. "I'm sure everyone enjoyed it - even if they're not willing to show it." She says, jokingly glaring at their last remaining companion. Fenris, who had been brooding with a glass of wine in the corner, merely growled as he likewise stood.
"Pleasure was all mine. Never thought that I'd see Sypha drink, let alone watch her put Trevor himself under the table." Jason whistles at the two singers, who groan in annoyance as he turns off the karaoke machine. Ava stumbles down from the stage into her fiance's arms, laying her head on Sara's shoulder and sighing in content.
"I can..can...hic...cannot wait to marry you!" Ava fumbles out as the two couples and Jason leave. "Just you and me and-" Ava continues, only for Sara's hand to cover her mouth. Ava throws it aside, indignantly stating "Sara what the hell?" before a thunderous boom and shaking ground jostles her awake. Sara points across the street from the Iceberg Lounge, deathly silent, where a Hammerhead Titanothere lazily walks forward.
"No. Sudden. Moves." Fenris orders, with most of the group quietly attempting to avoid its gaze - except for Bobby, who laughs loudly. "Come on, you're scared of this ugly old thing? I've beaten bigger monsters than this as a middle schooler!" he jokes, drunkenly forming an ice spike. Before his boyfriend can stop him, Bobby shoots the projectile at the creature. As it pierces its hide, the beast turns to Bobby and bellows, raising onto its back legs before charging in anger.
"Everyone scatter!" Sara yells, tackling Ava out of the way, with the others also moving. Jason watches in dismay as the Hammerhead barrels towards his bar, with his fear turning into confusion the charge suddenly stops.
The Hammerhead grunts in confusion, as it hovers slightly in the air. A dark glow surrounds it, and a small, purple ghost floats down to its eye level. "GENGAR!" it yells, sticking out its tongue and giving a devilish laugh. A small red-and-white object hits the Hammerhead, before its enveloped in a red aura and shrinks inside the Pokeball.
"Gengar, return!" Red orders from atop his Charizard, pulling another Pokeball from his DFederal Zoo uniform. He lands, offering a hand to Jason. "Sorry about that. Homeless Zoo just had a breakout, and Animal Control's a bit scattered without a competent boss."
Jason nods in thanks, taking the kid's hand. As he stands, he hears distant roars and explosions, likely the sound of the rest of the stampede. Red grimaces, climbing onto Charizard's back. "We've already had to reach out to the Hunter's Guild and DFPD for help on this one, so let's hope this time we got the users' attention." Red says, waving good-bye as he goes back to catch more of Pandora's homeless creatures.
---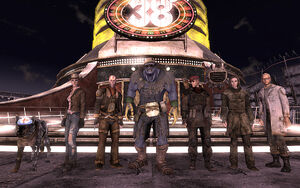 "

Full circle, walked your road - now back again.

— Ulysses

"
The Courier's Team is a group of individuals gathered by Courier 6 over his adventures in the Mojave Wasteland. Initially consisting of just the Courier himself, he meets his companions as he travels south to find information about his attempted assassination. He meets the robot ED-E in Primm, repairing it and taking it with him to Novac, meeting the former NCR sniper Boone, who also joins the Courier. The group slowly grows as the Courier continues his travels, including the Brotherhood scribe Veronica, the Follower of the Apocalypse Arcade Gannon, the Nightkin Lily, the cyberdog Rex, the merchant Rose of Sharon Cassidy, and former vigilante Raul. The team makes their mark on the wasteland, before eventually going their separate ways after the Battle of the Hoover Dam.
Members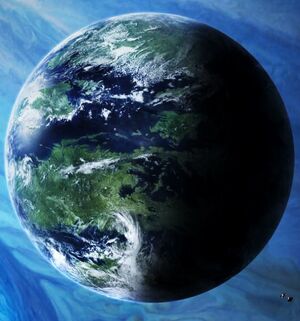 | | | |
| --- | --- | --- |
| " | You're not in Kansas, anymore. You're on Pandora, ladies and gentlemen. Respect that fact, people. Every second of every day. If there is a hell, you might want to there for some R&R after a tour on Pandora. Out there beyond that fence every living thing that crawls, flies, or squats in the mud wants to kill you and eat your eyes out for jujubes. | " |
Pandora is an enormous moon that orbits the planet Polyphemus, and is home to a wide host of unique natural creatures that have evolved to inhabit specific biological niches necessary to the continued survival of Pandora's ecosystem. Pandora is notable for its dense jungles and steep mountains, as well as floating land masses that house individual, smaller ecosystems. The native intelligent species of Pandora are known as the Na'vi, who have developed their own culture centered around the ritualized worship of nature. Although isolated in space, humans from Earth were able to make contact with the natives of Pandora and embarked on an ultimately unsuccessful attempt at conquest, leaving the moon to itself.
Species
Jake Sully is a former human and Marine veteran, and current and only remaining Na'vi Avatar. Suffering a crippling injury while fighting in Venezuela, Sully agreed to join the Avatar program after his twin brother's death to take his place. Sully travels to Pandora, where he enlists in the Avatar program overseen by Dr. Grace Augustine. As a Na'vi Avatar, Sully infiltrates the local tribe, meeting the chieftain's daughter Neytiri and bonding with her. He learns the way of the Na'vi, growing to identify with them and even becoming lovers with Neytiri.
This ends when his affiliation with the RDA is revealed, and he is exiled from the tribe. Returning to the RDA, he discovers Quaritch's plan to destroy the world tree to cripple the Na'vi and Pandora. He and others in the Avatar program defect, with Sully leading the resistance against Quaritch. Initially struggling, Sully reaches out to Eywa, who allows the planet's animals to join them and repel the invaders. Sully's human body is wounded in the fight, and Sully permanently transfers to his Avatar body, becoming the leader of the tribe.
Jake is a skilled soldier and fighter, having become accustomed to his new body. He is a skilled archer and banshee rider, while his military training gives him a keen mind for small-scale tactics and firearms. He is noted to be bad at riding direhorses however.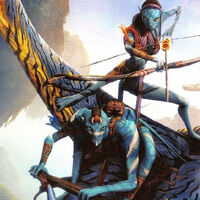 The Na'vi are a blue humanoid tribal species native to the jungle moon of Pandora. They came into conflict with the Resources Development Administration (RDA) when they arrived in Pandora to mine the moon of natural resources and were eventually able to drive them off with the aid of human deserters and sympathizers. After repelling the invaders from Pandora, the Na'vi have exiled humans and thus will likely attack humans on sight, although it is possible for the Courier's Crew to reason with them.
The Na'vi utilize stone weapons, utilizing longbows for their primary ranged weapons and stone knives or spears for melee fights. These bows are powerful enough to penetrate through bulletproof glass, as well as pierce (although not completely) the hull of the RDA's aircrafts. They tower over humans at being three meters tall, and far more agile, strong, and durable than the average human. The Na'vi are at least four times stronger than a regular human, and their bones are sturdier than a human's. They are still susceptible to firearms however, falling rather easily to small arms fire.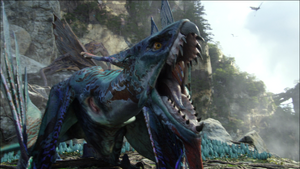 Mountain Banshees are the primary aerial predator of Pandora. In addition to being found naturally in the wild, Banshees are often raised by Na'vi to act as aerial mounts in battle and hunting. A banshee and a Na'vi bond for life, making it difficult for a banshee to find a new rider if their original one dies.
The natural weapons of the banshee include its massive wingspan, approximately 14 meters wide to travel large distances with ease, its teeth, and a single finger-like claw on its wings to travel cliffs or slash opponents. It is a dangerous aerial threat, but clumsy on the ground.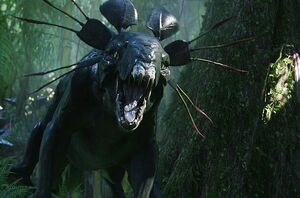 The Thanator is the apex predator on Pandora's land. They are powerful and dangerous enough to strike fear even in the Na'vi, who tend to run away upon encountering one. Roughly two meters tall, the thanator has an armored neck and back, a massive distensible jaw, and twenty-three centimeter long sharp teeth.
The thanator is a solitary creature, rarely venturing outside of its hunting grounds. It tends to hunt at night, although they have been spotted during daylight as well.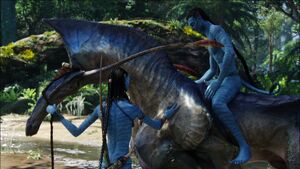 The Direhorse is a herbivore found on Pandora. When wild, the animals move together in a loose herd through the forests, feeding on tree bark and shrubs. The typical herd is roughly a dozen or more animals, but larger ones of more than one hundred have been sighted as well. The direhorse stands approximately 4 meters tall, and can run miles very fast.
Direhorses are also used as mounts by the Na'vi, where a neural interface between the Na'vi's queue and the direhorse's allows the two to share neural functions. This allows the Na'vi to seemingly control the direhorse by thought, freeing them to use a bow while riding at top speeds.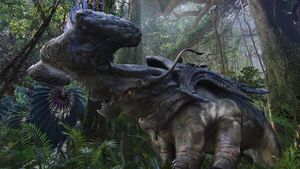 The Hammerhead Titanothere is a massive herbivore on Pandora, standing at roughly 6.5 meters tall. The Hammerhead Titanothere travels in herds of 10-20 creatures, and the hostile environment of Pandora has made them territorial and quick to anger although not immediately hostile. They have poor eyesight, but compensate with an effective sense of hearing and smell.
The animal's overlapping body plates and large, bony shoulder and back offer protection during battles with other titanotheres or large creatures such as the leonopteryx or thanator. Their armor, however, only covers the front of their bodies. Their hindquarters are relatively unprotected.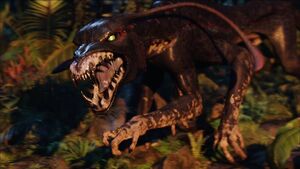 The viperwolf is a small carnivore that has six legs, a lean, powerful torso and has evolved to travel swiftly over long distances in search of prey. Very few predators will attempt an attack on a viperwolf. Viperwolves almost always move in packs that can mass together into a highly cooperative hunting party within seconds of finding prey.
Roughly one meter tall, the viperwolf has six legs, with each paw having three toes and an opposable thumb. This allows it to climb trees as well as stalk from the ground and, thereby, creates a three-dimensional hunting field. The viperwolf has distensible snakelike jaws with obsidian teeth, capable of crushing stone, and a paddle-like tail for stability.
Notes
Full votes require well-written edges OR a detailed explanation of at least ten sentences.
Half-votes are the previously mentioned requirements sans the "well-written".
Votes with little to no reason, bias, or irrelevant information will not count at all.
All votes must contain proper grammar and spelling.
All votes must clearly express a winner/tie to ensure proper tallying of votes.
These requirements are abstract; I reserve the right to count or discount votes depending on their individual merit.
My rebuttal policy is as follows; the initial rebuttal will reduce a vote to half, and a particularly outstanding rebuttal will reduce it to nothing. The first counter-argument, if adequate, will raise the vote back to full value. Going forward from there, all rebuttals and counter-arguments will only affect a vote if I believe it does so adequately.
Voting closes June 24, 2021.
The Courier's Team has been hired by the RDA to mount a rescue mission for some of its expeditionary forces in preparation for the second invasion of Pandora. Recruiting his old team, the Courier accepts the job and the group travel to Pandora. They're given a week's worth of supplies in food, oxygen, and water for their journey, as well as ample ammunition and five stimpacks per party member (45 total). Veronica and ED-E will be able to remake ammunition if necessary, as long as someone collects the materials necessary,
Eywa is aware of humanity's intention to begin a second invasion, and has been carefully adjusting the wildlife's behavior in anticipation of a rescue mission of the expedition forces. The animals will not actively pursue the Courier's Team or break from their traditional patterns of behavior, but Eywa has made them restless in preparation of invaders. The Na'vi are aware that humans are preparing for another invasion, but won't be aware of the Courier's Team initially.
The Courier and his crew must accomplish the following objectives:
Proceed from the landing zone to the RDA facility, roughly two days travel.
Collect the data from the RDA facility.
Rescue captives from the Na'vi encampment, located roughly one day from the RDA facility.
Escort captives to extraction point, roughly one day from the RDA facility.
Survive until extraction, which will take one day.
At least one member of the Courier's Team must survive in order for the team to win.
The Creatures of Pandora win if all of the Courier's Team dies on Pandora.
Community content is available under
CC-BY-SA
unless otherwise noted.