There won't be a title card. Bite me.
Commandos Marine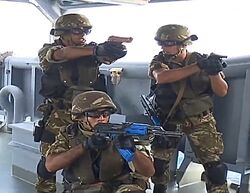 The Commandos Marine (Navy Commandos), nicknamed Bérets Verts (Green Berets), are the special forces of the French Navy. They operate under the Naval Riflemen and Special Operations Forces Command (FORFUSCO) and form part of the French Special Operations Command.
The Commandos Marine were created in 1942 during the Second World War and modled after the British Commandos, who were created in 1940. These first Marines were formed from Free French volunteers from different services, mainly from Navy Fusiliers Marins (Naval Infantry). The The 1st BFMC (Bataillon de Fusiliers Marins Commandos, Commando Naval Riflemen Battalion) took part in the Normandy Landing on D-Day under the command of Lieutenant Commander Philippe Kieffer, on Sword, and were for the occasion integrated in No. 4 Commando. They further participated in the Netherlands campaign.
After WW2, the Commandos Marine took part in the First and Second Indochina War and the Algerian War. In more recent history, they mainly took part in joint NATO peacekeeping and anti-piracy operations in Africa and the Middle East.
Alpha Group
Directorate "A" of the FSB Special Purpose Center, also known as Spetsgruppa "A", Alpha Group, or Alfa, is an elite, stand-alone sub-unit of Russia's special forces. It is a dedicated counter-terrorism task force of the Russian Federal Security Service (FSB), which primarily prevents and responds to violent acts in public transportation and buildings.
On 28 July 1974, Alpha Group was created on the orders of the KGB Chairman, Yuri Andropov, in the aftermath of the 1972 Munich massacre. Though the supposed reason behind Alpha Group's creation was to combat terrorism, it might have been a been established as a response to West Germany's creation of the Grenzschutzgruppe 9 (GSG 9).
During the Cold War, Alpha Group was used to support forgein communist nations, aiding communist rebellions and squashing anit-communist ones on top of counter terrorist actions and hostage rescue operations. Alpha Group mobilized against the Soviet goverment during the 1991 coup attempt under orders of General Viktor Karpukhin. When it was decided that the coup attempt was too risky, however, Karpukhin and Alpha Group surrendered themselves to the government.
Alpha Group was severely downgraded during the dissolution and collapse of the Soviet Union, largely thanks to their role in the failed coup. Many officers and high ranking officials were fired and replaced with officers loyal to the new regime. Today, Alpha Group is still active as a counter terrorist unit.
X-Factors
Training
In order to be eligible for the Commandos Marine, recruits need to have served at least nine months in the French Navy and completed Fusiliers-Marins Basic Training, which lasts 10 months and teaches them the basics of naval warfare. Afterwards, recruits can participate in Stage Commando (commando training), which is reputated to be toughest training course among the NATO Special Operation Forces, with a 82% failure rate as of 2016. The Stage Comando exsists out of 2 days of preselection followed by a 3 week evaluation course during which candidates are permanently subjected to intense physical and psychological pressure. There follows for the selected candidates a period of elementary training of 7 weeks (close quarters combat, marksmanship, physical training, abseiling, swimming, naval warefare, explosives training), followed by and 2 weeks of parachuting.
Recruits from Alpha Group are taken from those who completed their education at military universities of the Ministry of Defense of Russia. In order to be enrolled into Alpha Group recruits need to under go strict physical and mental tests. First candidates pass standards for physical training and hand-to-hand combat. After physical training, a special check is conducted by a psychologist who studies the personality of the subject, polygraph tests and interviews with family and friends. If the candidate has successfully passed all the stages, then he is enrolled in the special forces.
Experience
In recent history, the Commandos Marine primarily concern themselves with peacekeeping operations in the Middle East and Africa alongside other NATO forces against Islamic terrorists. Recent (known) instances where the Commandos Marine were deployed include Burkina Faso hostage rescue (2019), the assault on the terrorists entrenched in the Radisson Blu hotel (2015), and the evacuation of French and foreign nationals from Libya during the start of the Libyan Civil War (2014).
Alpha Group mainly focuses on countering domestic terrorism, which is mostly perpetrated by Islamic terrorists groups. Recent (known) operations include Insurgency in the North Caucasus perpetrated by ISIS (2009-2017), Beslan school siege (2004), and the Moscow theater hostage crisis (2002).
Notes
Battle will take place in a Crimean port town, if only so this battle will age really well in 10 years.
It will be a 5v5.
Votes need to be broken up in edges or be at least longer than five sentences.
Votes can be reduced to half with a good rebuttal.
I get the final call to determine if a vote counts or not.