Bell vs Red
WARNING: This is kinda poorly made... Also it contains spoilers for CoD Cold War. also spoiler for CoD WW2. and spoilers for my IQ test. Also i screwed up with one of the x-factors.
Call of Duty. Nicknames. Idk where i'm going with this. (i was gonna add the deadliest warrior theme, but i'm too lazy).
Bell
Bell was formerly a member of Perseus before being shot and left for dead until he was found and "rescued" by Adler who brainwashed him and gave him fake memories of serving alongside him in the vietnam war, among other things. Bell then became a vital part of Adler's team and
actually
fought alongside him in several operations.
Type 821
32 round mag
200 meters effective range
9x19mm Parabellum
380 m/s muzzle velocity
550 rpm rate of fire
---
Red
Red grew up on a farm in Texas before enlisting in the US Army in 1944, where he would fight under the command of Sgt. Pierson before being wounded and discharged. He then refused to go back home, choosing to save his friends and continued fighting until June of 1945.
MP40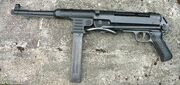 32 round mag
200 meters effective range
9x19mm Parabellum
400 m/s muzzle velocity
550 rpm rate of fire
---
X-Factors
Bell: Bell went on a few missions during the cold war, including sneaking into the KGB headquarters and fighting his way out. He also has memories of being in Vietnam (although he wasn't really there, it's still somewhat worth mentioning)
Red: Red fought in a number of battles against the wermacht and waffen ss during ww2 over the span of several months, including D-Day and The Battle of the Bulge.
Bell: As a member of Perseus, his training likely would've been similar to russian military training of the time and from the information i could find it would've been a 48 hour training schedule, 8 hours a day with no training on sundays, and would've consisted of 7 hours of weapons nomenclature, 7 hours of aiming exercises, 6 hours of field stripping weapons, 8 hours of close order drills, 6 hours of physical training, 4 hours of political lectures, 4 hours of political discussions, 4 hours of tactical training, 1 hour of engineer training and 1 hour of CW and medical lectures. From my understanding, this training would've lasted for at least 7 - 9 weeks.
Red: Being in the US Army during WW2 his training would've consisted of 13 weeks of basic training. Assuming basic training hasn't changed too much in the last 80 years (because i couldn't find too much on training from 1944), the daily training would've consisted of 1 hour of physical training, 10 hours of various training excercises, and 2.5 hours of Drill Sergeant time.
---
Scenario
Battle will be 5 v 5
Bell will be assisted by Soviet Soldiers and Red will be assisted by US Army Soldiers
Takes place in Quarry Junction at midday, but without the deathclaws.
---
Voting
Votes in edge format must have at least 1 - 2 sentences per edge.
Votes not in edge format must be at least 4 sentences long.
Anything else will only be worth half a vote unless i feel otherwise.
---
Expert's Opinion
To be decided
---
Community content is available under
CC-BY-SA
unless otherwise noted.