Finally something from Malaysia!
GGK: Malaysia's counter terrorist group and Asia's best
vs
1st Scout Rangers: Philippines elite anti guerilla special forces
In a battle between two of Southeast Asia's greatest. Who is deadliest!?
GGK
The Grup Gerak Khas (English: Special Service Group) is a special forces regiment of the Malaysian Army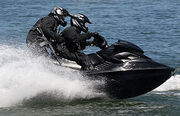 which conducts special operations missions for the Malaysian government, such as direct action, unconventional warfare, sabotage, counter-terrorism, and intelligence gathering. It is the administrative and operational group to which the three regiments of the Rejimen Gerak Khas and its supporting units are subordinated. While the GGK traces its origins to 1965 and the post Indonesia-Malaysia confrontation, they gained fame and recognition worldwide after successfully pacifying a communist insurgency in the jungles of Malaysia during the Communist Insurgency War.
Melee
Advanced Combat knife and Silat
6 1/2 inches
Sidearm
Vektor SP1

9mm

15 round mag

Rifle
M4 Carbine

5.56x42mm Nato

30 round mag

Sniper
MSG90

7.62x51mm Nato

10 round mag
1st Scout Ranger Regiment
The Scout Rangers, known officially as the First Scout Ranger Regiment, is a Philippine Army Special

Operations Command unit, and specializes in anti-guerrilla warfare. The regiment has been boasted as one of the world's best anti-guerrilla fighters. The Scout Ranger Regiment was born on November 25, 1950 under the command of former AFP Vice Chief of Staff and Defense Secretary Rafael M. Ileto.[2] Named after both the Alamo Scouts and the US Army Rangers, the unit was created due to a growing need to counter the Hukbalahap Guerrillas and its rebellion with a force trained in small unit actions.[2] Scout Rangers participated in the December 1989 coup attempt against the Corazon Aquino - Aquino Administration. With the rise of guerrilla and terrorist activities in the Philippines, the Scout Rangers have teamed up with the Light Reaction Battalion to take on more responsibility in internal security duties.
Melee
Bolo knife and Eskrima
10 inches
Sidearm
Colt M1911

.45 ACP

7 rounds

Rifle
Steyr Aug

5.56x42mm Nato

30 round bullpup mag

Sniper
SR-25 Mk11 Mod 0

7.62x51mm Nato

20 round mag
X-Factors
Training: GGK: 90 Scout Rangers: 90

Both are highly trained ops

Combat Effectiveness GGK: 88 Scout Rangers: 85

Both are effectiv in battle, but the GGK has slightly more history in being victorious

Jungle Warfare Tactics GGK:90 Scout Rangers: 95

Both are from SOuth East Asia, so both are trained in jungle and unconventional warfare, but the Scouts have more experience and is better focused on this subject.
Battle
No battle will be written
Expert's Opinion
The 1st Scout Ranger Regiment won because they have superior melee and long range weapons, and was superior to the GGK in jungle warfare.
Community content is available under
CC-BY-SA
unless otherwise noted.