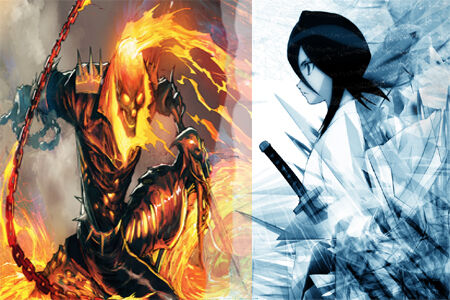 I am the Dark Shinigami. I am a fan of crossover battles as well as various different anime, video games and comic books including Metal Gear, Bleach, Ghost Rider and quite a few other series.
Fights that I've done so far.
X-23 (Marvel) vs Blade Wolf (Metal Gear)
Karen Low (Jormungand) vs Max Payne
James Bond (Daniel Craig) vs Hex (Jormungand)
Fox McCloud (Starfox) vs Carmelita Fox (Sly Cooper) - Pistol/Hand to hand combat scenario
Echo (Killzone) vs The Rookie (Halo)
John Rambo vs Revy (Black Lagoon)
Fights that I am working on.
Rick Grimes (The Walking Dead TV Series) *Season 5* vs. Yuno Gasai (Mirai Nikki/The Future Diary) *First Future Diary Battle Royale*
Fights that I'm thinking about doing.
Shadowhawk (Image Comics) vs. Batman (DC Comics)
Chiquita and Valmet (Jormungand) vs. Chris Redfield and Leon S. Kennedy (Resident Evil)
Community content is available under
CC-BY-SA
unless otherwise noted.